Family Concert
Sunday, December 5, 2021
3:00 PM
Central Bucks High School East
2804 Holicong Road
Doylestown, PA 18902
Concert Details
The BCSO will follow CDC, state, county and event venue mandates and recommendations in effect at the time of each event. At the present time, the BCSO requires that audience members remain masked while attending the Family Concert at CB East. Please check this page on Sunday prior to attending the Family Concert for the most current admission requirements.
The Bucks County Symphony Orchestra presents its annual Family Concert at Central Bucks High School East in Buckingham, PA.
The BCSO welcomes the Youth Orchestra of Bucks County as our special guests at the annual Family Concert.  The featured soloist is the 2021 Youth Concerto Competition prize winner, 14-year-old cellist Matthew Chung.  Noted children's book author and illustrator Peter Catalanatto narrates the classic tale of Peter and the Wolf, set to music by Russian composer Sergei Prokofiev.  Maestro Fagin and the BCSO round out the program with three delightful movements from Tchaikovsky's Nutctracker Suite.
What a wonderful way for the entire family to enjoy an afternoon of entertainment together!
TICKETS: $10 for adults – students admitted FREE.
Concert Program:
Peter Tchaikovsky: Selections from The Nutcracker
"March"    "Dance of the Mirlitons"    "Trepak"
Camille Saint-Saëns: Cello Concerto No. 1 in A minor (abridged)
Matthew Chung, cello
Sergei Prokofiev: Peter and the Wolf
Peter Catalanotto, narrator
Arturo Márquez: Danzon No. 2
Leroy Anderson: Sleigh Ride
Youth Orchestra of Bucks County
Robert Loughran, Music Director
Youth Orchestra of Bucks County
YOBC was founded in 1991 with the sponsorship and support of Bucks County Community College. YOBC creates opportunities for young musicians to achieve artistic excellence through enriching classical music experiences. Since its debut season the organization has grown from a single, 60-member ensemble to 13 ensembles with nearly 300 young musicians in grades 4 through 12.
Robert Loughran is the Music Director of the Youth Orchestra of Bucks County and Conductor of the Symphony Orchestra. He is a member of the Arts Faculty of Princeton High School, where he serves as Music Director of the orchestra program. A former member of the music faculties of Westminster Choir College of Rider University and Bucks County Community College, he holds a Bachelor of Arts from Gettysburg College and a Master of Music from Northwestern University. He has conducted the Greater Princeton Youth Orchestra, Temple University's Gifted Young Musicians Baroque Orchestra, the Main Line Symphony, and the Orchestra Society of Philadelphia.
Youth Concerto Competition First Prize Winner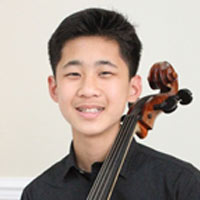 Matthew Chung is a 9th grade student at Methacton High School. He has been a cello student of Hsiao Ming Chen for 9 years. He attends Community Music School, where he is a recipient of a merit scholarship, and has participated in chamber ensembles as well.
Matthew is the 1st place winner in Tri-County Concerts' 2021 Youth Festival in Junior Strings. In 2019, as part of the Eridanus Trio, he won 2nd place in Tri-County's Festival in Junior Ensemble. The trio was also invited by the Pennsylvania Philharmonic that summer to perform at one of its concerts. This year, he joined Center for Gifted Young Musicians (CGYM) of Temple Music Prep and was in a masterclass with Philadelphia Orchestra cellist Priscilla Lee. This summer, Matthew was a 2nd place winner in Philadelphia International Music Festival's Concerto Competition.
Matthew is a distinguished honor roll student, first cello in his school string ensemble, a member of National Junior Honor Society, and was on the Math Counts team. He was also the captain of his 8th grade soccer team, enjoys running track with his friends, and plays soccer on his high school JV team.
Peter Catalanotto
Peter Catalanatto is a noted children's book author & illustrator familiar to elementary school students across the country as a dynamic presenter who specializes in sharing his personal journey of storytelling.  He is highly engaging, and inspires children to imagine their own abilities to create magical stories and beautiful illustrations.
Mr. Catalanatto graduated from Pratt Institute in 1981 and began working as an illustrator for print publications, including Reader's Digest, Family Circle, Woman's Day and American Girl Magazine. In 1984 he began illustrating Young Adult book jackets.  After painting the cover for Judy Blume's Just as Long as We're Together in 1987, the book's editor asked him to illustrate a picture book—All I See, written by Cynthia Rylant. When the editor noticed he would extend the text with pictures and bring new ideas to a story, he encouraged Peter to write his own books. He has since published 46 books for children, 16 of which he's written, including Ivan the Terrier, Matthew A. B. C. and Emily's Art. The first of his emerging reader series—Monkey & Robot—was released in 2013, followed by More of Monkey & Robot.
Since 1990, Mr. Catalanatto has visited over 1500 elementary schools in 40 states, showing students his creative process from inspiration to final book.  He currently teaches the first children's book writing course at Columbia University.
The BCSO is thrilled to welcome Mr. Cattalanatto as narrator for that quintessential symphonic work for children of all ages—Peter and the Wolf.