Family Concert
Sunday, December 4, 2022
3:00 PM
Central Bucks High School East
2804 Holicong Road
Doylestown, PA 18902
Concert Details
The Bucks County Symphony Orchestra presents its Family Concert at Central Bucks High School East in Buckingham, PA.
The BCSO welcomes the Wind Ensemble of Holicong Middle School as our special guests at the annual Family Concert.  The featured soloist is the 2022 Youth Concerto Competition 1st prize winner, 14-year-old violinist Audrey Kim.  Maestro José Luis Domínguez and the BCSO will introduce concertgoers to the various orchestral instruments as they present Benjamin Britten's The Young Person's Guide to the Orchestra.
What a wonderful way for the entire family to enjoy an afternoon of entertainment together!
TICKETS: $10 for adults – students admitted FREE.
Concert Program:
Peter Tchaikovsky: Violin Concerto in D (Movement 3)
Audrey Kim, violin (Youth Concerto Competition Winner)
Benjamin Britten:  The Young Person's Guide to the Orchestra
Arturo Márquez: Conga del Fuego
Two Pieces with the Holicong Middle School Wind Ensemble (Joel Chodoroff, director)
Youth Concerto Competition First Prize Winner, Audrey Kim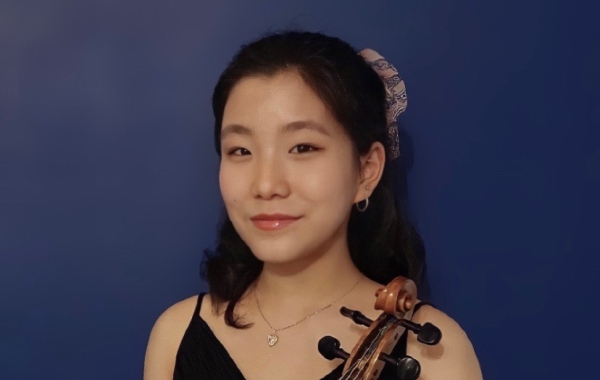 Audrey Kim, age 14, won first prize in the auditions for her exemplary performance of the third movement of Tchaikovsky's Violin Concerto. Audrey receives the prestigious Jeanne Marvin Phillips Prize and an invitation to perform with the BCSO at the 2022 Family Concert in December. Mrs. Phillips was a dedicated music educator and classical pianist who helped establish the BCSO in 1953. The Youth Concerto Competition honors the significant contributions she made to the orchestra's artistic development and her encouragement of young musicians.
Audrey is an 8th grade student at Valley Forge Middle School in the Tredyffrin/Easttown School District. She has been playing the violin since the age of 4 and currently studies violin with J Freivogel of the Jasper String Quartet. In 2016, she joined Temple Music Prep Center for Gifted Young Musicians, and is now a member of their Youth Chamber Orchestra. In the 2021-2022 season, she performed as a soloist with the Main Line Symphony Orchestra after winning the James Deitz Memorial Young Artist Competition. She was the winner of the 2022 Tri-County Youth Festival in the Junior Strings Division. As the junior division winner of the LMC Young Artist Scholarship Competition in 2020, she received a full merit award from Luzerne Music Center. She performed at Weill Recital Hall at Carnegie Hall in 2017 as a winner of the Little Mozarts International Competition.
Audrey has performed in solo masterclasses given by Philip Setzer, Juliette Kang, Marc Rovetti, Sibbi Bernhardsson, and Robert Chen. This upcoming summer, she'll be attending Northwestern University Bienen Summer Violin Institute and Boston University Tanglewood Institute's Young Artist Orchestra and Chamber Music Program. She has previously studied at the Saint Paul Chamber Music Institute, Luzerne Music Center, and Philadelphia International Music Festival.
Audrey is involved in her school's music programs and is also a gifted student supported by the T/E School District. She is a member of Oaks Center Ice Figure Skating Club and enjoys reading and spending time with her friends.