Special Memories from the Woodwind, Brass and Percussion Sections
Woodwinds
Laurie Eastburn Bayon (flute): As part of the Eastburn clan, playing in the BCSO has often been a family affair; my father (oboe), mother (flute), brothers (clarinet and piano/percussion), sister (violin), son (trumpet) and nephew (bass) all have played in or with the orchestra at one time or another.
Stephanie Derham (oboe): Some of my favorite memories with the BCSO were performing musical works that had great English horn solos in them, especially Dvorak's Symphony No. 9, Franck's Symphony in D Minor, and Ravel's Piano Concerto in G Major.
Barry Bilowitz (clarinet): Daphnis and Chloe. The most difficult of all parts for Bass Clarinet. I practiced it for 3 months prior to the concert. Must say I was proud of how I did! When I asked my wife how she thought I did, she responded, "couldn't hear any of it…too much else going on."
Andrea Maurer (flute): Special memory of the orchestra is playing Daphnis and Chloe, one of my favorite compositions.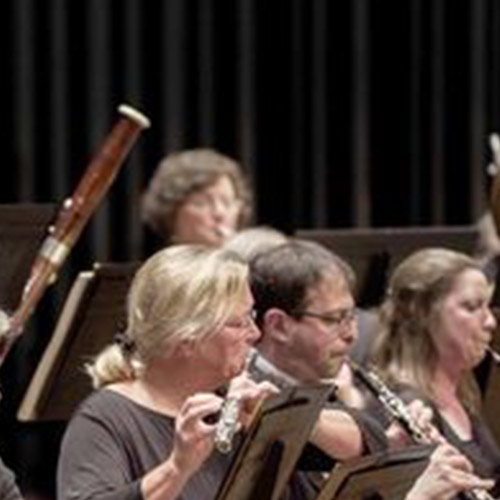 Brass
Patrick McIsaac (trombone): Performing Mozart's Requiem with the CB East HS Choir was a real treat.
Jim McIlvaine (French horn): Performing under Gary's direction, especially Beethoven & Mahler.
Steve Sweetsir (French horn): performing Mahler 1 and 4, Richard Strauss tone poems–so much great literature with Gary Fagin.
Colleen Sweetsir (French horn): My mountaintop BCSO experience was accompanying guest soloist, Adam Unsworth (Philadelphia Orchestra French hornist), as he masterfully performed a Mozart horn concerto and a jazz chart arranged by our own, Maestro Fagin! Totally awesome!
Stephen Troy (trombone): Playing alto trombone on the Mozart Requiem
Percussion
Brian Richardson (timpani): Beethoven 9th performance celebrating 10 years with Gary Fagin as Maestro; Holst: The Planets; Sibelius Violin Concerto with Elizabeth Pitcairn; Mahler Symphony #1.
Cheryl Cunningham (harp): My first contact with BCSO was way back in the 1970s, when I competed in BCSO's Youth Concerto Competition, playing Mozart's Piano Concerto No 21 in C Major, K 467, "Elvira Madigan".
Keith Wilson (percussion): I think one of the best things about being a member with the Bucks County Symphony Orchestra is performing alongside of some great percussionist in an amazing percussion section. A couple my favorite concerts are the Family Concert of 2019 and the Spring Concert in 2019, playing Petrouchka.